This afternoon I had the opportunity to speak again at BriForum.  I presented my DIY DaaS: Creating your own Desktop-as-a-Service session.  I had the pleasure (or misfortune) to follow Brian and Gabe on stage… that is a tough act to follow.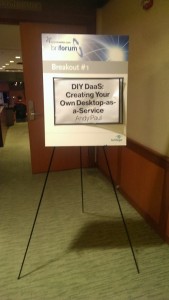 Overall, this has been a great experience; especially for my first BriForum.  Great venue, wonderful people.  I got introduced to some new technologies and products, but more importantly I was able to network with old friends and new.
If you get the chance to attend BriForum in the future, I highly recommend it.  BriForum 2015 will be in Boston again.
All of the sessions are recorded, I'll post links once they are available.